PTA
Hello and Welcome to Worplesdon Primary PTA !
What is Worplesdon Primary PTA?
Worplesdon Primary PTA is a registered charity (1087830 – Friends of Worplesdon School) that work to raise funds to support the school and advance your children's education.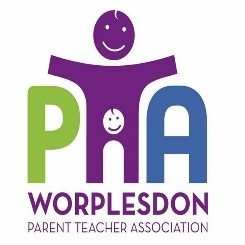 Every year our volunteer teams organise a calendar of events that are both fun and engaging for the School Community while raising funds for projects such as an expansion of the infants playground, athletics equipment, ICT upgrades, maths mastery resources, reading books and a library refurbishment.
We could not do this without the support of our parents and wider community and are grateful for your help! If you want to know more the please contact us at worplesdonprimarypta@gmail.com or for details of all our upcoming events and how funds are spent please like and follow us on Facebook.
Who Is Worplesdon Primary PTA ?

All parents and carers of children at Worplesdon Primary School are automatically members of the PTA along with a wide range of other supporters from the Govenors to grandparents!
Our core committee is made up of our Chair, Michelle Nichols, plus our Treasurer, Karen Harris. Each activity that we run is organised and managed by a team of volunteers who take responsibility for delivering that specific event – we are always looking for new volunteers and ideas so if you would like to get involved please do contact us!
What Can You Do To Help ?