Open Football Trials at NEW Guildford Centre!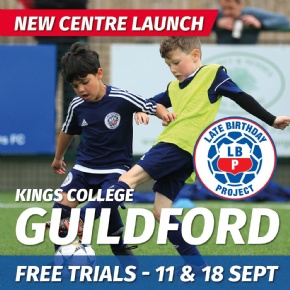 The 'Late Birthday Project' is launching a brand new centre at Kings College Guildford and is looking to identify footballing talent in the under-six to under-14 age groups, and are offering open trials to boys (a girls centre will follow later).
The LBP flyer can be viewed and downloaded at the bottom of this page.
Late Birthday Project (LBP) combats the significant 'Relative Age Effect' in youth football, by providing a professional academy environment, coaching and opportunities for players born between January and August*.
Research shows that 45 of players at Premier League & Category 1 academies are born between September and November, while just 10 of players are born between June and August.
LBP director Richard King said: "We're delighted to offer the LBP experience to players from Guildford and surrounding areas. The 'Relative Age Effect' is proven to have a major impact on the development of young footballers born later in their year groups, so our objective
is to allow these players to flourish without the influence of older, bigger players who might usually dominate."
LBP offers UEFA qualified coaches, premium facilities, free futsal, free holiday camps and free Adidas team kit, plus a curriculum including sprint and strength training, nutritional and physiotherapy advice, psychology workshops and more, all aimed at giving younger players a fighting chance when it comes to maximising their potential.
With showcase fixtures, scouts attending and close links with a number of professional clubs, there is a natural pathway for those players ready to make the step up, or return to, academy football. LBP players have secured places in the professional academies at Fulham, Brighton, AFC Wimbledon and Crystal Palace, representing county teams including Surrey and Sussex, and making significant advances in their club football.
LBP Guildford (Fri): U6-U7: 5-6pm, U8-U9: 5-6.15pm, U10-U14: 5-6.30pm
3G at Kings College Guildford, Southway, Guildford, GU2 8DU
*Players born between September and December can join our Thursday and Saturday Dorking centres but will develop their technical game by playing a year up, at the ALL-BIRTHDAY SESSIONS.
To apply for a trial pack, or for more information:
Email: hello@latebirthdayproject.co.uk or visit www.latebirthdayproject.co.uk
---
TESTIMONIALS
At Late Birthday Project we are very proud of the positive feedback we get from players and their families.
Here's what some of them had to say:
Fergus Johnson
Max and Theo have been attending LBP for over 3 years and have thoroughly enjoyed every minute of it.
The coaching style and overall philosophy creates an amazing environment for learning and player development. The quality of the instruction given to Max and Theo has been exceptional and this is augmented by a genuine rapport that the coaches have with the boys.
The coaches create a careful balance to provide a challenging yet supportive environment where players are stretched but can learn freely from their mistakes without pressure.
Both boys have made fantastic progress and have mastered many new skills, improved their ability to read the game and gained confidence.
I would highly recommend LBP to any budding, talented footballers who want to progress to the next level in their development.
Sarah Clachan
Joel has been attending LBP for over three years now. His football skills and confidence have increased no end. LBP's coaches and the ethos behind the club is to nurture the player in a positive and encouraging way. It is the best football session of the week!
Tasha Baker
Bertie joined the Late Birthday Project in May 2016. He has really enjoyed the coaching and he loves the way the coaches allow the boys to play their own game - there's no shouting from the side-lines and it's a calm atmosphere. I've never struggled to get him to a training session as he's always so keen (whatever the weather!).
Alan Duley
Our two boys, Ollie and Jake, have been in the Late Birthday Project since its inception 4 years ago, and it has been a wonderful experience
for both of them. The excellent, specialised coaching they've received has meant that despite being in the younger age bracket in their school year groups, and so less physically developed than some of their peers, their football development has not been hindered at all. The focus on being technically proficient, playing as a team, whilst having fun at the same time, has all contributed to their ongoing footballing success.
Kate and Felix Risley
Four years ago Sam trialed at the Late Birthday Project in Dorking. He came home a different boy – elated, excited, enthused, confident.
He'd finally found people as passionate about football as him! People who understood him! Training sessions were a revelation to him, introducing a much more structured and inspirational approach to his football.
Topics such as nutrition, psychology, dealing with conflict, respect, team morale, and learning from coaching have prepared him well and he's applied these skills to all areas of his life. The LBP coaches took Sam under their wing and under their guidance his self-belief, determination, resilience, and skill have taken flight!