Break The Rules Day!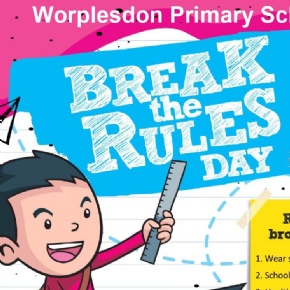 The School Council have organised a 'Break the Rules' day at school next Thursday 26th May. The poster attached outlines the 8 rules that are allowed to be broken. The children are only allowed to break these 8 rules. For example, children do not need to wear uniform, children will be able to wear temporary tattoos, children will be able to wear their hair down, etc.Children WILL need to stick to other school rules such as no mobile phones, follow our TEAM rules (Talk and act positively, Embrace and follow instructions, Act kindly keeping hand and feet to yourself, Make yourself the best you can be).
PLEASE NOTE: ANY SNACKS MUST BE NUT FREE - NO NUTS!
Whilst the poster suggests a donation of £1 per rule broken, please note that this is not an expectation. We are extremely grateful for any donations, no matter how large or small! You can make your donation online by following the link below: